Allergy Injections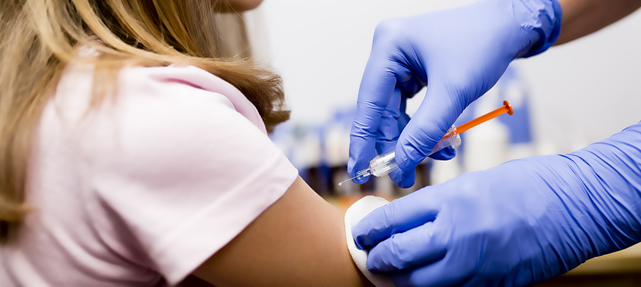 There are three ways of managing nasal and eye allergy symptoms and asthma: allergen avoidance, use of allergy & asthma medications, and allergy injections. Depending on your degree of allergies, allergen avoidance measures and medications by themselves may not be entirely effective in managing your symptoms. It is possible, to identify and treat the underlying condition instead of simply treating the symptoms with medications.
Allergy injections (also known as immunotherapy or desensitization) currently are the only and most effective form of treating the underlying mechanisms that cause allergic disorders, such as allergic rhinitis or hayfever, allergic asthma, allergic conjunctivitis, and allergies to stinging insects. Millions of patients all over the world have benefited from them since 1911.
The allergy vaccine is prepared from allergens, which are selected based on allergy skin test results and clinical relevance. A minute amount of the vaccine is injected under the skin in the arm and the dose is increased carefully at weekly intervals following established protocols. You may receive 1-3 injections during each visit and it may take 6-12 months to reach an optimal dose. You may not notice significant improvement in the symptoms until then. Once the maintenance dose is reached, the time interval between injections is slowly increased from weekly to biweekly and later on every 3-4 weeks. The injections are continued for a total of 3-5 years for maximum benefit and may be stopped then. Overall, about 70-80% of patients notice benefit from the injections. About 60% of grass allergic patients who have completed the full course have noticed continued benefit for three additional years after stopping injections in one study.
Those individuals afraid of needles should not worry, as the injections are much less painful than the deep intramuscular shots received with routine immunizations. The shots are given with a very fine tipped needle subcutaneously in the arms just below the surface of the skin to minimize discomfort. Children often have an initial fear of the shot, but after experiencing the first shot deal well with the follow up injections. Often after discovering, the injections are helping, children do not mind and it becomes routine.
Allergy injections may help you in the following ways:
Reduce allergy and asthma symptoms
Reduce the need for medications which can vary among patients
Prevent complications from uncontrolled allergy and asthma
May even prevent development of new allergies
May prevent development of asthma in children who have allergic rhinitis
Increase overall quality of health and life

The following complications can result from allergy injections:
Local reactions: It is normal to have small, red, itchy bumps at the site of injections and nothing needs to be done further. The reactions reduce with time.

Large local reactions: Large bumps, which are red, itchy or painful, and several centimeters in diameter may develop up to 24-48 hours after the injections and could cause significant discomfort. You may have to apply topical hydrocortisone ointment and ice pack locally and take antihistamines by mouth to get relief. Sometimes these reactions may precede the onset of more serious systemic reactions in future. If you develop large local reactions, you should inform your nurse or doctor who will make appropriate adjustments in dose next time.
Systemic reactions: These are rare (1% incidence) but could be serious. Look under anaphylaxisto learn more about these reactions and about their management. Most of the reactions appear within 30 minutes after the injections. That is why you should always wait in the doctor's office for 30 minutes after the injections, and always take the injections at places where trained people and equipment are available. Sometimes the reactions could appear during the first two hours after the injections. If this happens, you should inform the doctor right away, and call 911 and go to the emergency room by ambulance. You should not exercise for 4 hours after the injections. People with asthma should not take the injections if they are symptomatic from asthma or if their peak flow meter readings are below 80% of their personal best.
Most of the insurances cover the allergy injections. Some insurance policies may require you to make copayments with each injection. Your insurance will be billed for the vaccine preparation and administration costs. Check with your insurance company for details. Call our office for an appointment if you are interested in this option.
Allergy Injections Hours
| | | | |
| --- | --- | --- | --- |
| | Kingman | Bullhead City | Lake Havasu City |
| Tuesday | Closed | Closed | 9:00am - 5:00pm |
| Wednesday | 8:00am - 5:30pm | Closed | Closed |
| Friday | Closed | 9:00am - 5:00pm | Closed |
| Saturday | 8:00am - 1:00pm | Closed | Closed |
| Sunday | Closed | Closed | Closed |